The provision of comprehensive, comparable, and consistent financial disclosures around climate-related risks and opportunities is edging closer to becoming firmly embedded in the information provided by companies to financial analysts. The newly published recommendations of the Financial Stability Board's (FSB) Task Force on Climate-related Financial Disclosures (TCFD) could make the further incorporation of climate and environmental disclosures and their associated risks into credit ratings more consistent and transparent.
On July 8, 2017, the Hamburg Action Plan was released following the G20 summit in Hamburg, Germany. This sets out the G20's strategy for achieving strong, sustainable, balanced, and inclusive growth.
The Action Plan refers to, amongst other things, the recommendations published by the TCFD on June 29, 2017. These recommendations present a voluntary disclosure framework that aims to make it easier to both produce and use climate-related financial disclosures. According to the TCFD, the recommendations aim to address three areas of the market where challenges currently exist:
Issuers who generally have an obligation under existing law to disclose material information, but lack a coherent framework to do so for climate-related information;
Investors, lenders, and insurers who need decision-useful, climate-related information to make informed capital allocation and financial decisions, and;
Regulators who need to understand risks that may be building up in the financial system.
To date, as well as featuring in the G20 Hamburg Action Plan, the recommendations have received the backing of over 100 CEOs from companies that represent over $3 trillion in market value.
More recently, the EU's High-Level Expert Group on Sustainable Finance (HLEG) endorsed the recommendations in its July 18 interim report. For example, Recommendation Four on disclosures for sustainability states that: "The recent TCFD recommendations should be integrated in a way that advances EU leadership on these areas, while providing legal certainty and maintaining a level playing field globally. The 2018 review of the Non-Financial Reporting Directive represents an opportunity".
The EU HLEG interim report also recommends that credit rating agencies disclose how they will consider TCFD related information in their credit ratings. In this FAQ, we explain how S&P Global Ratings might consider TCFD-recommended disclosures, as well as our existing activities in this area.

Frequently Asked Questions
What are the TFCD's recommendations?
The recommendations describe information that both financial and non-financial companies should disclose to help investors, lenders, and insurance underwriters better understand how they oversee and manage climate-related risks and opportunities, as well as the material climate-related risks and opportunities to which they are exposed.
This is pertinent because climate-related risk is a non-diversifiable risk that affects nearly all industries. Climate-related and environmental risk is also often misconstrued as being only a longer-term risk and not relevant to financial plans and other decisions made today. All organizations with public debt or equity are covered by the recommendations, including asset managers, asset owners, public and private-sector pension plans, endowments, and foundations.
The recommendations focus on four key areas that are relevant in virtually all types of companies: governance, strategy, risk management, and metrics and targets.
These areas also reflect the types of information investors and other market participants expressed that they need to make better, more informed decisions.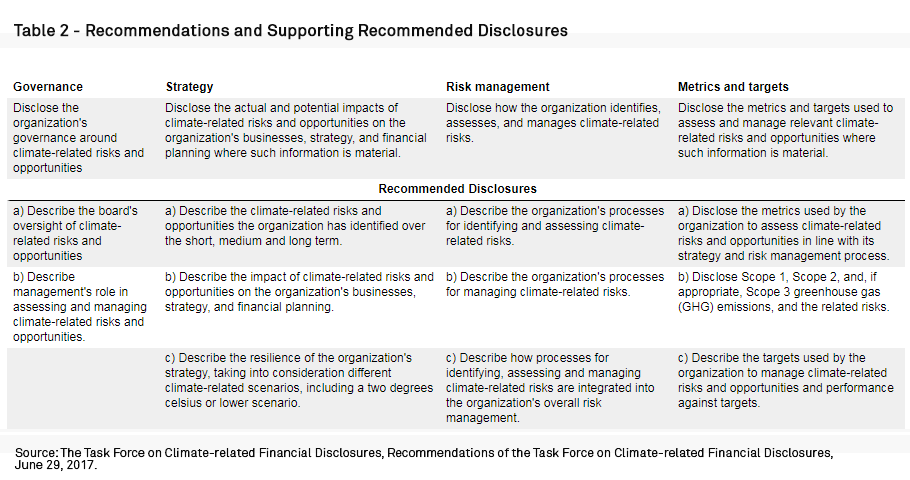 How will S&P Global Ratings incorporate the new and additional disclosure generated by the TCFD's recommendations into its credit ratings?
We already incorporate environmental and climate risks into our corporate credit ratings. Where they are material to the creditworthiness of an issuer these environmental factors can trigger positive and negative rating actions. We have also published a number of reports that explain how we factor environmental (as well as social and governance – collectively known as 'ESG') risks into our credit rating analysis. Additional disclosures as a result of the adoption of the TCFD's recommendations should, over time, further enhance our ability to take these risk factors and opportunities into account in our credit rating analysis.
The main challenges when trying to evaluate climate risks for individual corporates are the lack of disclosure generally and--where disclosure does exist--the lack of comparability across peers. The TCFD's recommendations should help to standardize the types and quality of climate-related disclosures by providing a unified framework of what to disclose and how to disclose it. If the TCFD disclosure standards are taken up, or required via regulation, and adhered to by a wide range of companies, this will change the current status quo of inconsistent and incomparable disclosure--or indeed non-existent disclosure. TCFD-based disclosure would provide climate risk-related information that is much more useable in the financial markets, including by S&P Global Ratings. We expect that this change in the status quo will take time to develop as organizations will have to decide whether to follow the voluntary disclosure guidelines and might have to increase certain capabilities in order to facilitate the disclosure requirements.
The TCFD's recommendations could go further. For example, specific metrics and key performance indicators are prescribed in only a few instances, such as the recommendation that asset owners should provide the weighted-average carbon intensity for each fund or investment strategy. The recommendations do not preset the parameters of the scenario analysis either. They purely suggest that users prepare a scenario showing the impact of a two degrees celsius increase in average global temperatures, however a wide margin for variation in the assumptions that underpin any given two degree scenario exists. We believe that this flexibility is important for businesses to acclimatize to these recommendations, and should enable wider uptake of the voluntary recommendations, as well as provide opportunity for companies to tailor the disclosures to information most relevant to them. Nevertheless, it is likely to lead to inconsistencies and gaps in disclosure which will make it harder to use the information for peer analysis. Over time, this could be an area for further development.
Will the proposed TCFD disclosure recommendations change credit ratings?
An S&P Global Ratings' issuer credit rating is a forward-looking opinion about an obligor's overall creditworthiness. This opinion focuses on the obligor's capacity and willingness to meet its financial commitments as they come due.
The TCFD disclosures, if widely adopted, should enable a better and more granular understanding and credit rating analysis of an entity's resilience to climate-related risks and uptake of climate-related opportunities. However, insufficient adoption of the voluntary recommendations or inconsistencies in disclosure could limit our credit rating analysts' ability to perform peer analysis, which can be an important element of our credit rating analysis. Although, at this stage, we do not expect much ratings impact, whether additional disclosure will result in a change in individual ratings will depend on the materiality and timing of any new information provided by TCFD-related disclosure.
How can TCFD disclosures help with long-term credit risk analysis?
The question of credit rating horizons--specifically, whether the credit rating horizon is long enough to capture climate-related risks--is an important one. Credit analysts must consider the visibility and degree of certainty about which risks can crystallize, how they can be mitigated, and if so, at what cost.
Within our ratings process, issuer credit ratings can change over time. This reflects not only changing fundamentals of the rated issuer but our evolving views of that issuer's future fundamentals. In our experience, a foreseeable horizon is generally less than two years for a speculative-grade credit (rated 'BB+' and below) and generally no more than five years for an investment-grade credit ('BBB-' and above), reflecting the fact that investment- and speculative-grade credits are differentially vulnerable to the many factors in the business, financial, natural, and social environments. However, if we have a high degree of visibility and certainty about risks and opportunities that may crystallize for an issuer beyond the horizons described, we factor those into our credit ratings, as appropriate.
Also, credit rating actions may depend on future policy actions taken to impose new costs or create opportunities for rated entities. We may take such actions with particular regard to the United Nations Framework Convention on Climate Change's (UNFCCC) target of limiting warming to no more than two degrees celsius under the Paris agreement. (The Paris agreement was negotiated by 196 countries in 2015 under the United Nations Framework Convention on Climate Change [UNFCCC]. It aims to collectively limit average global temperature rises to no more than two degrees celsius above pre-industrial levels.) However, a credit rating can, necessarily, only reflect the effects of a given policy action once the policy is highly certain (for example, if a related law or regulatory requirement has been, or is close to being, adopted) and once there is better visibility on its potential credit implications. While difficult for us to predict rating actions as a result of improved disclosure, it should be possible to provide improved transparency on the quantum and timing of climate-related risks and opportunities, given enhanced disclosure about these issues. This would enable us to take a more holistic view on when these risks and opportunities could crystallize and affect creditworthiness in either a positive or a negative direction. Similarly, the credit implications of potential climate policy actions for a specific industry or company will only crystalize in our credit ratings once such an action is imminent.
Will these voluntary TCFD disclosure recommendations apply to all sectors equally?
Yes, however there is supplemental guidance available for the financial sector, including banks, insurance companies, asset owners, and asset managers, and for a number of non-financial sectors (energy, transportation, materials and buildings and agriculture, and food and forest products).
While the recommended disclosures related to the Strategy and Metrics and Targets recommendations apply to all sectors, the extent of disclosure will depend on the assessment of materiality. The TCFD states, in the TCFD Final Report FAQ which was published in June, that companies should determine materiality for climate-related issues consistent with how they determine the materiality of any other information in their financial filings so as to ensure as much compatibility as possible with national disclosure requirements for regulatory filings.
With respect to the TCFD Strategy recommendation on scenario analysis, there is a suggested threshold of $1 billion (or equivalent) of annual revenue over which organizations should consider conducting more robust scenario analysis to assess the resilience of their strategies.
What is "scenario analysis"?
Scenario analysis is a tool for companies to consider in a structured way potential eventualities that are different from business-as-usual and to evaluate how their strategies might perform under the circumstances proposed by the scenario. Recommended disclosure (c) under the TCFD Strategy and the related guidance asks organizations to describe the resilience of their strategies, considering different climate-related scenarios, including a two degrees celsius or lower scenario. This is the recommendation that has received the most attention to date as it is a forward-looking disclosure that moves away from the conventional historical disclosures by entities of previous years' greenhouse gas emissions.
What else is S&P Global Ratings doing in this area?
S&P Global Ratings is aware of the growing attention to, and materiality of, environmental and climate risk for the creditworthiness of corporates and financial services. We have published considerable research on the topic, both on how our rating methodologies already take environmental (as well as social and governance) factors into account. We have also analyzed how environmental and climate risks have affected our ratings over set time periods.
The independent investor initiative, UN Principles for Responsible Investment (PRI), has acknowledged our ongoing research in these areas. In its report, "Shifting Perceptions: ESG, Credit Risk & Ratings," published on July 5, the PRI concluded that S&P Global Ratings was among those who were "leading the pack" and making "visible progress in complementing ratings analysis with additional research publications on ESG considerations to refine and improve methodologies and transparency."
More recently, S&P Global Ratings has also been developing non-credit rating products to complement and provide further clarity to investors on climate and environmental risks and benefits. We have recently launched a Green Evaluation service, which is a non-rating product that assesses the environmental benefit of a given financing, be it a labeled green bond, a conventional bond, or even a loan. Furthermore, we will soon publish an update on our proposal for environmental, social, and governance assessments.
What's next for the TCFD?
In February 2017, the FSB welcomed a proposal by the TCFD to continue its work until at least September 2018. We will continue to contribute to the work of the TCFD and will form part of the private sector 'User Group,' which will focus on whether disclosures are meeting our analytical needs.
The TCFD's next step will be to promote and monitor adoption of the recommendations by companies and evaluate the extent to which the recommended disclosures are meeting the needs of users. This will involve a large outreach effort, which will include education and training for preparers of the disclosures. Another key focus will be to assess implementation challenges for the corporates who will be preparing the disclosures. This work will culminate in the release of a TCFD report in 2018, which will summarize the TCFD's findings on the implementation phase and provide insight on monitoring progress.