The U.S. Trade Representative has continued to receive a steady stream of requests for exemptions from section 301 tariffs on Chinese exports. Panjiva analysis shows there are now an aggregate 10,393 exemption requests outstanding as at Nov. 8, up from 8,241 a week earlier across both list 1 (duties applied Jul. 6) and list 2 (Aug. 24). They have been filed by 1,102 companies, up from 798 just a week earlier. Only 38.1% of the filings have yet received attention, with 3.5% in the administrative feasibility stage (the last before approval is granted) with a further 7.9% having been denied.
Plenty More Cases, Much Less Progress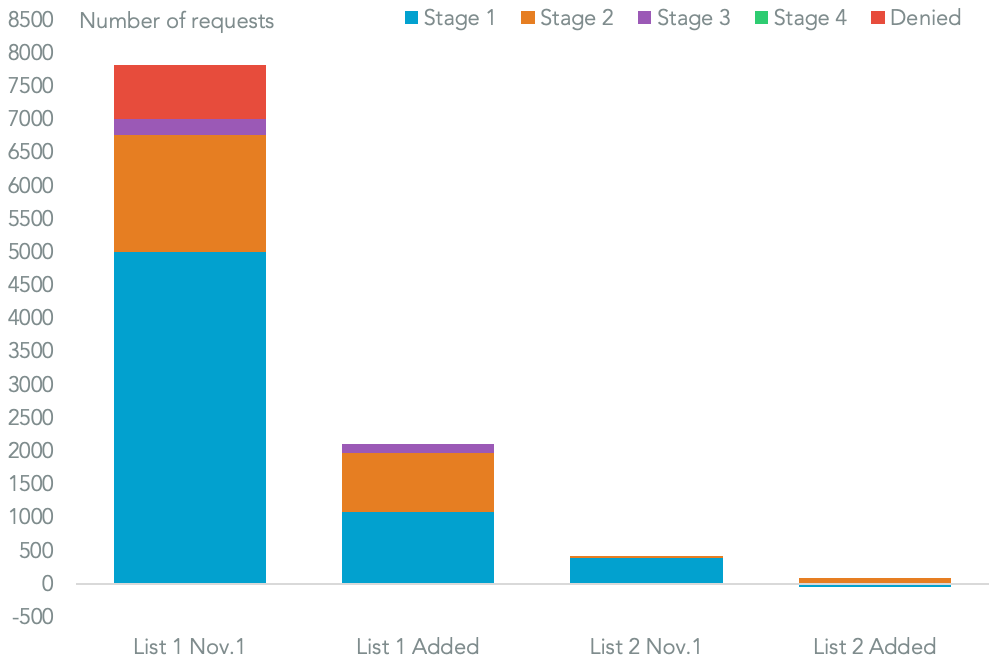 Chart segments requests received for relief from section 301 duties by stage of review, list of inclusion and date of filing.
Source: Panjiva
As well as an increase in the number of requests and companies there has also been a widening of product coverage. There are now 502 products (defined at HS-8) where requests have been received or 45.6% of all tariff lines that had been targeted for the 25% duties outlined in Panjiva research of Sept. 18. A week earlier the requests covered 38.7% of all tariff lines.
The largest products where exemption requests have been received for the first time include electronic circuit imports, where total imports from China were worth $771 million in the 12 months to Sept. 30 Panjiva data shows, requested by automaker Toyota's trading business. Total imports of the products concerned have already begun to decline, with a 4.5% decline in the third quarter vs. the second quarter after reaching the lowest value of shipments since February 2016 in September.
The second largest new product covered by exemption requests were aircraft parts ($508 million, down 11.1% in the third quarter) including a request from aircraft safety equipment manufacturer AmSafe.
Chips are Down, Aircraft Parts Stalled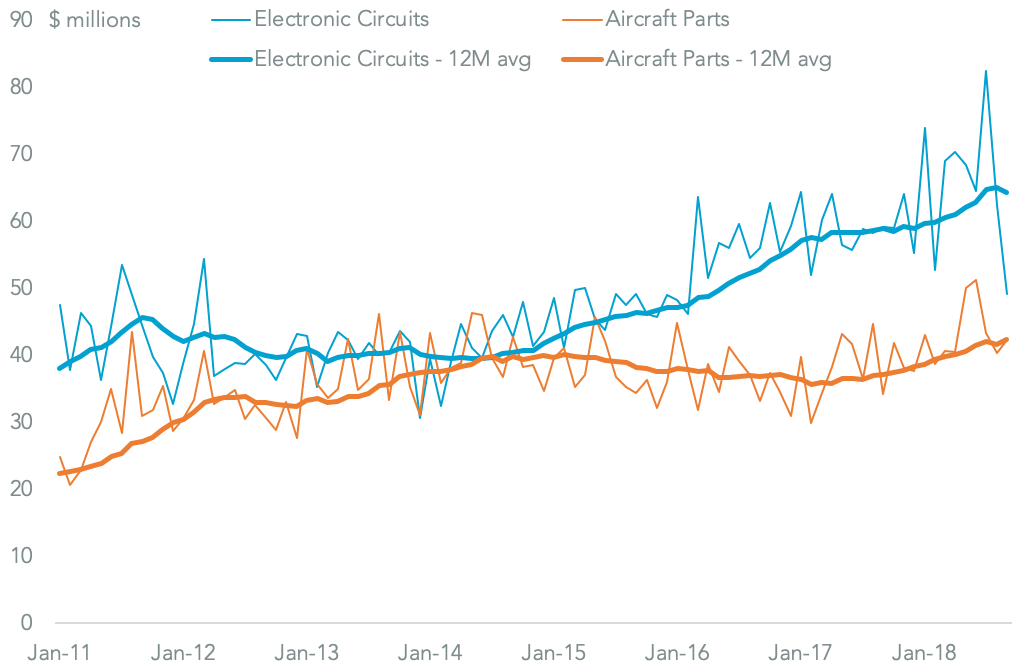 Chart shows U.S. imports of electronic circuits (HS 8542.39.00) and aircraft parts (8803.30.00) from China on a monthly and 12 month average basis.
Source: Panjiva