Customer Logins
Obtain the data you need to make the most informed decisions by accessing our extensive portfolio of information, analytics, and expertise. Sign in to the product or service center of your choice.
Customer Logins
Article: FMC interview - technology is the cornerstone of our growth plan

Sanjiv Rana talks with FMC's new president and chief executive officer, Mark Douglas, to discuss his vision and strategy for the company's growth.
| | |
| --- | --- |
| | |
| Mark Douglas | Sanjiv Rana |
Sanjiv Rana (SR): You took over as CEO at a turbulent time in the midst of the disruption caused by Covid-19. How did you tackle the challenges that changed quickly from being a regional disturbance to a global one?
Mark Douglas (MD): Covid-19 certainly has presented some unique challenges over the last several months. As you know, the agricultural industry, including companies that supply inputs, was designated as essential in many countries. Therefore, it was imperative that we figured out how to operate under extraordinary circumstances so we could continue to supply farmers with products they needed.
Like other global companies, we began to address the impact of this virus back in early January when FMC teams in China were facing the initial outbreak. We learned a lot from those early days, from how to safely maintain production operations and keep our supply chain intact, to figuring out how to preserve business continuity when many employees had begun to work from home.
Perhaps one of the most significant lessons learned was how to use digital and online technology to stay connected to our customers. FMC sales, marketing and technical teams in Asia Pacific shifted to digital, online, and social media channels to host customer events, provide technical training, conduct virtual plot tours, and host other online customer engagements that are traditionally conducted in a live setting. Participation exceeded our expectations. We were able to export what we had learned in the Asia Pacific to our commercial teams in other regions and countries as the pandemic emerged in those areas.
SR: What has been the impact of the disruption on FMC in terms of manufacturing? Did you have to look at alternative suppliers following the initial closures in China and slow resumption of manufacturing?
MD: We have detailed business continuity plans for all manufacturing locations. These plans are designed to ensure we can safely operate production plants and ship products under a variety of difficult conditions. It's been a challenge, but those business continuity plans have helped maintain operations with minimal disruptions over the last several months.
SR: What about the impact on product distribution? How did you manage to tackle logistical bottlenecks in ports and inland transport to ensure seamless distribution of products to farmers?
MD: Regarding supply chain, logistics and product distribution, the challenges have been more complex as regions, countries and other jurisdictions established their own set of rules, border restrictions and other measures in response to Covid-19. In some cases, something as basic as access to warehouses became difficult early in the pandemic. But our agility has been a strength. Our "hub and spoke" process has worked well whereby operations and supply chain teams at our Philadelphia headquarters are in constant contact with their counterparts in every region. They are monitoring the supply chain daily and, when necessary, adjusting to events that could impact our network. You have to be on top of this every minute, not only to quickly react to changing events at ports, borders and airports, but to anticipate them and adjust whenever possible. I think it's also important to add that FMC and other companies have had quite a bit of practice over the last several years as we have managed through production disruptions and related events in parts of China.
SR: FMC has reached a stable growth phase after the rapid growth since 2018. What are the main items on your agenda to ensure that the growth momentum is maintained? What are FMC's mid-term growth targets?
MD: We have been very pleased with our track record of growth over the last several years. In December 2018, we introduced FMC's five-year growth plan with revenue growing 5% - 7% CAGR, taking us to $5.5 to $6 billion by 2023. This would translate to more than twice the expected market growth. We targeted EBITDA to grow 7%-9% CAGR to about $1.5 to $1.7 billion. Our long-range plan also calls for increased investment in R&D of about $1.8 billion, roughly 7% of sales, during the 5-year plan. Of course, we are very disciplined on costs, which will continue to be a priority. Now into our second year of the five-year plan, we are tracking very well and are pleased with our progress, especially in light of market disruptions over the last few years.
SR: What role does new technology play in your growth plans?
MD: Technology is a key driver of our growth. We have an incredible synthetics pipeline of 22 new active ingredients, 14 of which feature new modes of action in herbicides, fungicides, and insecticides. On the biologicals side, our Plant Health business is developing new bioinsecticides, bionematicides, biofungicides and biostimulants that offer excellent sustainability profiles.
In addition to new product technologies, we recently announced key investment areas that support our mid- and longer-term growth. Back in May, we announced our new precision agriculture platform called Arc farm intelligence, the first proprietary mobile platform in the ag industry to deliver real-time data that predicts insect pressure one week in advance with more than 90% confidence for key insects.
In addition, we recently announced the launch of FMC Ventures. There's a lot of interesting technology in the agriculture industry being developed by small start-ups. We will be highly focused on investing in emerging technologies that could radically alter how products are developed, sold and applied. This could take us in any number of directions, but our primary focus is precision agriculture, artificial intelligence, synthetic biology, and biopesticides, as well as emerging business models.
SR: Can we talk about FMC's pipeline and the promising candidates and chemical families within it? The diamides are a mainstay of your portfolio - which product categories or chemical families will provide a similar boost in the coming years? Apart from Rynaxypyr, which are the promising ais where you see peak annual sales in the region of $100 million or more?
MD: As I mentioned earlier, technology is the cornerstone of our growth plan. Obviously, diamides have played an important role in our success and will continue to be a leading molecule in our portfolio for the foreseeable future. But our technology investments extend well beyond just diamides.
Over the next several years, we expect to commercially launch several new ais, most with estimated peak sales of over $200 million, and in some cases significantly higher. For example, in 2021 we will introduce Overwatch herbicide in Australia powered by our new Isoflex [trade-marked name of bixlozone] active ingredient. This pre- emergent herbicide provides outstanding control of annual ryegrass and other weeds that have developed resistance to older technologies. We expect Isoflex to reach peak sales of around $500 million.
Another great example is fluindapyr active ingredient, an SDHi molecule that combats various diseases in row crops, specialty crops and turf. We jointly developed it with Isagro, and recently announced an agreement to acquire all IP, registrations, formulations and global assets. Pre-launch is expected this year in Paraguay, with an initial launch in the US next year, followed by China, Europe, Argentina, Brazil and other countries. Peak sales opportunity for fluindapyr is $350 million to $500 million.
FMC's development pipeline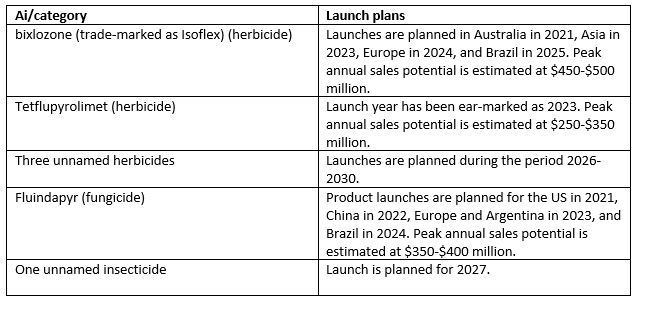 SR: Diamides brought in some $1.4 billion in revenues in 2018. How has the category grown since then? What are the revenues being targeted through further expansion in the next 2-3 years?
MD: When we acquired the diamides franchise as part of the DuPont crop protection transaction in 2017, our diamide sales were about $1.1 billion. Today they are in the $1.7 to $1.8 billion range. The FMC diamides portfolio consists of two key molecules - Rynaxypyr [trade-marked name of chlorantraniliprole] and Cyazypyr [trade-marked name of cyantraniliprole]. We expect them to continue on their strong growth trajectories.
SR: Are you looking at licensing deals with companies as you near patent expirations in some countries in the next 2-3 years?
MD: The patent estate for these molecules is extensive and made up of several different patent families. They cover composition of matter for the ai and certain intermediates, manufacturing processes for the ai and certain intermediates, as well as patents for formulations, uses and applications. For Rynaxypyr, we have more than 20 patent families filed in over 75 countries with a total of about 640 granted and pending patents. Together with Cyazypyr related patents, we have over 30 patent families and close to 1,000 granted and pending patents.
Composition of matter patents are typically what observers focus on, but process patents are also extremely important. These are complex molecules to produce—for example, chlorantraniliprole requires 16 separate steps, many of which produce an intermediate whose sole use is the production of chlorantraniliprole. FMC has many of the 16 process steps separately patented, and several of these intermediate process patents run well past the expiration of the composition of matter patents. In some cases, they extend all the way to the next decade. When you take this into account, as well as our diamides formulation patents, use patents and application patents, we are very confident in the strength of our IP protection for many years.
Growing this franchise extends well beyond IP protection also includes an extensive third-party sales strategy. Allowing others to sell Rynaxypyr and Cyazypyr, as long as they purchase the ais or formulations from FMC and license the trademarks, is a profitable way for us to grow and increase market reach for the molecule. We have commercial agreements in place, or actively negotiating new agreements, with more than 15 companies to supply Rynaxypyr and Cyazypyr on a global or country basis before patent expiration. The duration of these agreements extends well beyond the patent expiration dates and are exclusive in nature. Furthermore, we are exploring opportunities with companies beyond those we are engaged with today.
In summary, our IP and commercial strategies ensure that the FMC diamide technologies will continue to gain market share and our franchise will continue a strong growth trajectory well into the future.
SR: What has been the revenue break up in 2019 for insecticides, fungicides and herbicide? Do you see the proportion changing as new pipeline candidates come into the market?
MD: In 2019, our revenue breakdown by product category was 60% insecticides, 27% herbicides, 6% fungicides, and the remaining 7% included biological products, seed treatments, and micronutrients. We are the market leader in insecticides, we are well balanced in herbicides, and we are strengthening fungicides, which are mainly used on high-value crop segments.
SR: What steps are you taking to establish a presence in digital and precision agriculture? Is the focus on developing pest/disease detection apps, such as Arc, which was debuted in May?
MD: Since early 2019, our Precision Agriculture team has been assessing opportunities to help growers make better informed decisions. Customers today are demanding more data and information on the conditions impacting their fields. We have focused much of our recent Precision Ag efforts on digital agronomy, machine learning, and developing data-driven insights that provide customers with critical information they need to make better-informed decisions and recommendations.
Our new Arc farm intelligence platform predicts insect pressure one week in advance with more than 90% confidence for key insects. It raises the game in predictive modelling and analytics, enabling our team to provide advisers and growers with advice and insights faster and easier. Feedback has been overwhelming in Greece and Brazil, where Arc was deployed across 400,000 cotton ha on boll weevils and fall armyworms in Bahia state. It is being piloted in various other countries, including Spain and the US. In fact, we recently announced a new pilot for real-time pest mapping and predictive forecasts of diamondback moth populations in brassica crops in California.
We also have other technologies under Precision Ag. Our 3RIVE 3D application system is an at-plant crop protection delivery system that efficiently covers more ground in less time with fewer refills, saving water, fuel, labour and time. Another great technology is PrecisionPac, an innovative dispensing system that minimises waste with customer blends specific to each grower's field size and weed spectrum.
SR: Many big players are moving towards outcome-based pricing models and risk-sharing models with farmers. Do such measures play a role in FMC's near-term future?
MD: We are aware of one or two players in the industry that are looking at outcome-based pricing models. There are many successful pricing models in the industry. At FMC, we tend to price based upon the product value and use. For example, the diamides provide exceptional value to specialty crop growers. Our pricing reflects the value those growers derive from using products powered by Rynaxypyr or Cyazypyr.
SR: How does a chemicals-based company such as FMC incorporate sustainability in its vision? What is FMC doing towards making crop protection and agriculture in general more sustainable?
MD: For leading chemical-based companies, sustainability must play an integral role in every aspect of the enterprise. It is not good enough to develop a sustainability strategy that merely resides on the sidelines. To be impactful to the organisation - where it can really make a difference throughout all aspects of the company - sustainability must be ingrained in the company's culture and seamlessly flow throughout how the company is run. That means new molecules in our pipeline are extensively assessed for their sustainability profiles and will not progress through discovery and development if they do not meet our standards. It also means conducting product stewardship and sustainability assessments on current products that considers six criteria: food expectations, health expectations, land competition, climate change, scarce resources, and environmental consciousness.
Sustainability is integral to how we operate our plants, from ensuring we work to meet or exceed our targets for water, energy, and waste, to driving process safety improvements. I think it's also important to acknowledge that sustainability must extend beyond those traditional areas of environment, safety and stewardship.
SR: Can regulatory bodies susceptible to politics and public opinion (especially in the EU) be convinced that conventional agriculture using chemical ais can also be the way towards sustainability?
MD: Regarding the convincing of key stakeholders that agriculture using traditional chemistries can be sustainable, this is something I think our industry has improved on over the years. But we can do better. Regulators are important partners in a lengthy process of introducing new products that are safe, sustainable, and deliver the results growers need. We need to show our stakeholders that crop protection chemistries are among the most highly regulated products in the world and are tested following rigorous standards and using sound science to ensure their safety for people, wildlife and the environment.
When it comes to feeding a growing world population, traditional chemistries and conventional farming play a very important role. Organic farming that uses biological products is also important, and clearly there are parts of society that want to see more food produced organically. We acknowledge this. But in my view, it's not an either/or scenario. Until organic farming can produce crop yields that are typical of conventional methods, we will need to ensure both approaches - organic and conventional farming - are supported and can thrive for global food security.
(Mark Douglas will be speaking at Agrow'sCrop Science Forum & Awards.)
---
This article was published by S&P Global Commodity Insights and not by S&P Global Ratings, which is a separately managed division of S&P Global.
RELATED INDUSTRIES & TOPICS
{"items" : [ {"name":"share","enabled":true,"desc":"<strong>Share</strong>","mobdesc":"Share","options":[ {"name":"facebook","url":"https://www.facebook.com/sharer.php?u=http%3a%2f%2fwww.spglobal.com%2fcommodityinsights%2fen%2fci%2fresearch-analysis%2farticle-fmc-interview--technology-is-the-cornerstone-of-our-gr.html","enabled":true},{"name":"twitter","url":"https://twitter.com/intent/tweet?url=http%3a%2f%2fwww.spglobal.com%2fcommodityinsights%2fen%2fci%2fresearch-analysis%2farticle-fmc-interview--technology-is-the-cornerstone-of-our-gr.html&text=Article%3a+FMC+interview+-+technology+is+the+cornerstone+of+our+growth+plan+%7c+S%26P+Global+","enabled":true},{"name":"linkedin","url":"https://www.linkedin.com/sharing/share-offsite/?url=http%3a%2f%2fwww.spglobal.com%2fcommodityinsights%2fen%2fci%2fresearch-analysis%2farticle-fmc-interview--technology-is-the-cornerstone-of-our-gr.html","enabled":true},{"name":"email","url":"?subject=Article: FMC interview - technology is the cornerstone of our growth plan | S&P Global &body=http%3a%2f%2fwww.spglobal.com%2fcommodityinsights%2fen%2fci%2fresearch-analysis%2farticle-fmc-interview--technology-is-the-cornerstone-of-our-gr.html","enabled":true},{"name":"whatsapp","url":"https://api.whatsapp.com/send?text=Article%3a+FMC+interview+-+technology+is+the+cornerstone+of+our+growth+plan+%7c+S%26P+Global+ http%3a%2f%2fwww.spglobal.com%2fcommodityinsights%2fen%2fci%2fresearch-analysis%2farticle-fmc-interview--technology-is-the-cornerstone-of-our-gr.html","enabled":true}]}, {"name":"rtt","enabled":true,"mobdesc":"Top"} ]}